Oktoberfest Rocks Harvard Square
October 07, 2002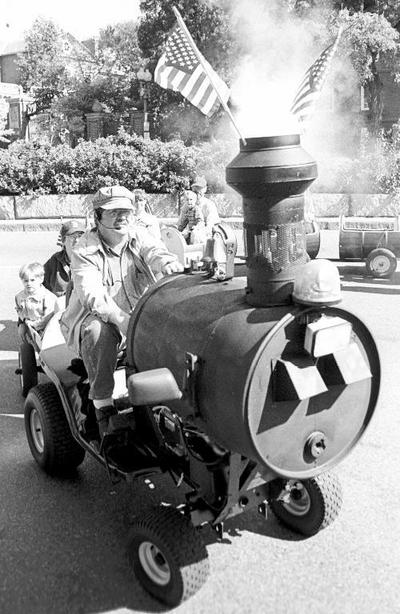 Crowds of locals and students descended on Harvard Square yesterday for Cambridge's annual take on the Old World tradition of Oktoberfest—though sauerkraut, Wiener schnitzel and lederhosen were in short supply.
"This is definitely a less traditional Oktoberfest," said Robin A. Lapidus, executive director of the Harvard Square Business Association, which coordinates the annual event. "This is Cambridge. It's far more an international event for all ages, as opposed to a beer fest....we have Buddhist food, Tibetan food."
From noon until 6 p.m., about 300 vendors set up shop on Mass. Ave. and JFK, Brattle and Church Streets, according to Lapidus.
Traffic was rerouted as pedestrians took over the streets.
Lapidus anticipated a turnout of 100,000 visitors—similar to last year's figures. Clear skies and a cool breeze blessed the event.
This year, organizers set up a new children's area on Church Street.
"We wanted it to feel a little safer, separate from the mayhem," Lapidus said, noting that the Harvard Square Oktoberfest draws many families with young children.
A 10-car mini-train on Church Street took kids and their parents on a zigzag ride through the streets. For three dollars, Cambridge resident Tim Fitzgerald and his 18-month son Ronan rode the R&D Express, while wife Djamila looked on from the safety of the sidewalk.
"He seemed to like it, eventually," Fitzgerald said of his son, who looked slightly bemused after a ride on the "choo-choo."
Kevin B. Rogus '05 and Graham L. Beatty '05 stopped to check out the ride as well.
"We were mesmerized by the little train," said Beatty, who was turned away from a ride on the tyke-sized locomotive.
"Unfortunately, they don't allow 6'5" and 6'8" guys on it," Rogus said.
Older Oktoberfest-goers bypassed the train in favor of a trellis-enclosed beer garden on the patio of Au Bon Pain. At 1:15 p.m., only a few patrons sat in the still-quiet beer garden. About 25 people stopped in during the first hour, said Brian C. Goodwin, an employee of John Harvard's Brew House who was supervising the area.
"It usually gets off to a slow start and picks up later," he said, enjoying the cool breeze on the patio. "It's better than being in the basement."
Also stationed in front of the beer garden was officer George R. White of the Harvard University Police Department, keeping an eye on the growing crowd.
"Traffic's pretty messed up, pretty congested," he said, gesturing toward the snarl of outbound traffic snaking down Mass. Ave.
Further down in the Square, business among food vendors picked up as the afternoon went on. Marie's Apples, selling caramel-coated fruit, was doing a "steady business" at lunchtime, as were vendors selling less traditional street-fair foods.
Jamaican curry goat went for eight dollars a plate, while a few feet away, falafel, humus and tabouli sizzled at the Sabra Grill; chicken masala from the Diva Indian Bistro and Thai fried rice rounded out a mix of ethnic dishes.
Classic German fare was scarce, but at the Sausage Connection, steak tips, kielbasa and Italian sausages were the top sellers, said cook Harry Pateras.
Judith J. Li '06 and Hebah M. Ismail '06 browsed among jewelry, sweaters and artwork spread out by vendors.
"We're looking for bargains, since we're poor college students," Ismail said, adding that she was enjoying the lively crowd in the Square. "This is great; this is why we tolerate Boston closing at midnight on the weekends."
Also enjoying the festivities were Josh L. Stern '05 and Andrew T. Budreika '05, who browsed among the vendor stalls.
"It's cool to have no cars out here," Stern said. "We just got swept away in all this."
The small size of the Harvard Square Oktoberfest makes it a convenient walk-through for visitors, Lapidus said.
"It's a very easy circuit," she said. "You can see everything in two hours, then go back and decide what to buy."
Rogus and Beatty scoped out different food vendors before planning to buy lunch.
"We've done a lot of walking around," Rogus said. "We're taking a lap before we commit to a location."