Finding Peace on the Ski Slopes
Editorial Notebook
March 06, 2002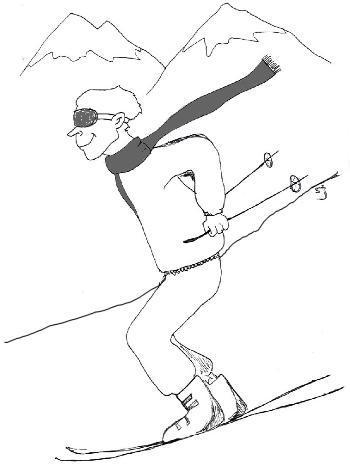 Last weekend I was poised on the top of a mountain range, about to shoot down half a mile of icy slush on skis badly in need of sharpening, and a question occurred to me: does absence really make the heart grow fonder? My family took off a few days to do some much-needed bonding on the slopes of the Sunday River Ski Mountain in central Maine, and I made the painful decision to forsake life in Cambridge for a short while. As I skidded and slalomed down the trail on Saturday morning, I was surprised to watch all my Harvard problems fade away into the endless New England landscape. I found upon returning to campus that my heart, if not necessarily fonder, was, at the very least, well rested.
I know the advice "go away and get some perspective" seems a little glib—and perhaps obvious—but sometimes we forget that life extends beyond Johnston Gate and the Leverett Towers.
The joys of skiing are simple yet profound. The satisfying "Shhkshhhhkshhh" sound the skis make becomes my entire world for ten brief minutes, momentarily eclipsing any deadlines, doubts or discouragements in my mind. There's a very Zen pleasure in trying to drop the H-Bomb on two Canadian ski-bunnies at night and crashing and burning when they think I said "Hartford College." My après-ski still seems to need some work. Enjoying tripping over my skis by the main chairlift and wiping out it in front of my family and two hundred complete strangers is an acquired taste for sure, but maybe the most astonishing sensation is realizing that I actually miss Harvard when I'm away. When did this happen?
I don't think I'll ever be confused with an Adrenaline Junkie (wearing white socks with brown shoes is about the extent of my X-Treme sports life). However, the occasional speed rush is just what the doctor ordered when I begin to lose sight of my priorities. It is way too easy in these gray days (fellow sufferers of Seasonal Affective Disorder will understand) to obsess about minutiae that really doesn't deserve that much attention. Expos essays and problem sets have their place—don't get me wrong—but I know far too many people who have unnecessarily lost sleep worrying about their Rome of Augustus quiz.
In the time it takes my roommate to prepare his bio flashcards, he could drive north to any number of posh New England ski resorts. Since the larger mountains in Vermont attract a huge number of people every weekend, I prefer to head up even farther to Sunday River or Sugarloaf in Maine—it's worth the trek to escape the New York crowds. Two days of solid skiing is enough to tire out just about anyone short of the crew team, so "the weekend's too short" is hardly a good excuse for not going.
Maybe the best part of going off for the weekend is coming back to school. After clearing one's mind in the mountain air, the chicken parmesan tastes that much more delicious, and the roommates seem that much more hygienic. (Is it just you or does the room smell better? It's just you.) You might be surprised how much fun you can have at Harvard without even being here.