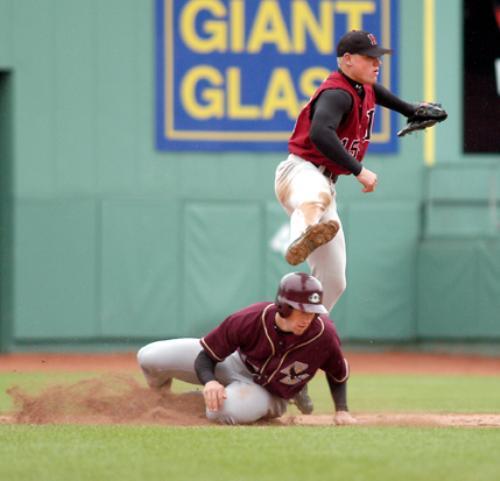 NO WRITER ATTRIBUTED
PROVIDENCE, R.I.—With an injury-depleted rotation and a tired bullpen heading into this critical Red Rolfe Division weekend, Harvard coach Joe Walsh prayed for—and got—rain on Saturday to postpone a pair of games against Brown. By the time the Crimson had thrown away one of the games and squandered a five-run lead in the second, he probably couldn't help looking up in the sky for gray.
What he got was even more Brown—but the good kind.
Junior Jason Brown and freshman Morgan Brown turned in clutch relief pitching in extra innings and senior Brian Lentz delivered the game-winning double as Harvard beat Brown in 12 innings yesterday, 7-6, to close out a doubleheader at Stephenson Field. The Crimson had lost the first game, 5-3. The third and fourth games of the doubleheader, originally scheduled for Saturday afternoon, will be played today at noon.
With Dartmouth splitting a doubleheader with Yale yesterday, Harvard (14-19, 7-7 Ivy) remains a game up on the Big Green in the Red Rolfe Division Race. Sophomore Mike Morgalis will start the first game today. Jason Brown, who was scheduled to start today's second game, threw an inning of relief today, throwing the identity of the second starter against the Bears (14-24-1, 5-9) into question.
"I was thinking about Jason for Game Four, but once we got the lead, I had to throw him," Walsh said. "We'll see if maybe we can get a few innings out of him [today]."
Harvard 7, Brown 6 (12 inn.)
By the time the 12th inning rolled around yesterday, Lentz was angry. The Crimson had lost all of a 5-0 fifth-inning lead, Lentz had watched a Barry Wahlberg wild pitch skitter past him to score a run as Brown made an eighth-inning comeback and had been called out at second on a controversial attempted suicide squeeze and steal in the top of the ninth. Lentz had left the base screaming at the umpire.
The two-strike pitch Lentz caught in the top of the 12th didn't catch all of that anger, but Lentz got enough of it to line the ball past a shallow outfield and score freshman Zak Farkes from second to score what proved to be the winning run.
"I just haven't been able to hit the ball in the air, to be honest with you," Lentz said. "Everything I hit has been gone straight forward, there's been no carry."
But in a game when the ball was carrying past an outfield wall that had been moved in 10 feet during the offseason, Lentz's hit just out of the reach of the centerfielder proved the biggest blow.
Senior Ryan Tsujikawa (1-2) made a brief appearance in the bottom of the 11th, getting Rob Deeb to fly out to end the inning. Jason Brown, who had been lights out during last Wednesday against Boston College in the Beanpot, pitched a hitless 12th for the save. He and Morgan Brown shut down the Bears in extra innings—although Morgan's outing was a more adventurous one.
Brought in for the top of the 10th to relieve Wahlberg, Morgan Brown walked the leadoff man, Cameron Johnson, and gave up a one-out double down the line past freshman third baseman Josh Klimkiewicz to send the Bears to second and third with no outs. Morgan Brown intentionally walked Cameron Mitchell in order to face freshman Paul Christian with the bases loaded.
"Coach wanted me to throw a lot of ground balls, get the double play ball," Morgan Brown said.
That didn't happen—at least not right away. Christian lined a well-hit ball to shallow right, but freshman Lance Salsgiver made a spectacular catch while charging in and managed a relay throw to freshman Mike Dukovich at first that kept the lead run from scoring.
"That was huge," Morgan Brown said. "That fired me up, I got a little second wind to get the last guy out."
Morgan Brown did it by inducing a weak grounder from Bobby Wigginton to shortstop, which sophomore Ian Wallace threw to first for the second out. Brown also got the first two outs in the 11th.
It was the most important appearance so far in the career of the freshman reliever, who has been used as a backup closer of sorts while Wahlberg has battled a finger injury. In recent weeks, Morgan Brown has warmed up alongside Wahlberg as insurance in case the captain has difficulty finding the zone.
Yesterday, when in counted most, Morgan Brown was in it.
"You know Barry's the closer," Brown said. "You just try to try to get what you can get, and I'll try and do my job if it gets that far. I get ready like I'm going to come in every time and hope [Wahlberg] can get the job done, and if it doesn't happen I come in and try to help."
Harvard had jumped out to a 6-2 lead midway through the seventh on the strength of solid pitching from senior lefty Kenon Ronz and the bat of Farkes. Farkes hit two homers on the day—a two-run shot in the top of the fifth and a solo shot that just stayed inside the foul pole in the seventh—and knocked in four runs.
But things fell apart in the eighth. Ronz allowed a double and a single to open up the inning, and was eventually replaced by Wahlberg, who came in with nobody out and the lead down to two. The wild pitch to Jeff Nicholas brought Brown within one, and the Bears used a stolen base a bunt and a sacrifice fly to manufacture the tying run.
Brown 5, Harvard 3
In every way possible, Harvard hurt itself in the opener.
With runners on first and third and two outs, freshman pitcher Matt Brunnig (3-2) threw a pitch to Johnson, never knowing just how bizarre the play would be.
But when Matt Kutler tried to steal second on the pitch, sophomore catcher Schuyler Mann threw a perfect back to the infield to catch Kutler in a rundown. With Wallace pursuing Kutler on the basepaths, Brown's Rob Deeb attempted to score, and Wallace threw home to get the runner.
The ball never made it there.
Wallace's throw was low and hit Brunnig, who had crouched to avoid it, square in the elbow. The ball bounced back toward short, Kutler was safe and Brunnig was sprawled on the field in pain.
It was the second such freakish injury to a pitcher on an infielder's throw this season. Senior Matt Self had been hit by a Lentz throw to the mound against Cornell.
Brunnig eventually got up and was able to pitch well, surrendering only four hits, but with the wind blowing out to right field, two of those hits were home runs.
"You don't wanna lose a ballgame when you give up four hits, which is what we did," Walsh said. "It's frustrating. That's why I hate the seven-inning ballgame, you put pressure on guys."
The Crimson responded well to the pressure in the fourth inning. Down 3-2 after Brunnig's adventure, Farkes executed a perfect leadoff bunt to get on base, and Lentz followed with a single to left. Two batters later, Klimkiewicz hit a three-run homer to the scoreboard in right field to give Harvard the lead.
But Brown's Eric Lardon responded with a two-run shot of his own in the next frame—his first of two on the day—to reverse the momentum.
Notes
Junior pitcher/first baseman Trey Hendricks underwent successful arthroscopic surgery on Friday to have a bone chip removed from his knee, according to his father, Art Hendricks. Dr. Bertram Zarins, team doctor for the Boston Bruins, New England Patriots and New England Revolution, performed the procedure, which it is believed would keep Hendricks out of action for six weeks. Hendricks was not in Providence yesterday but is expected to travel with the team today.
—Staff writer Martin S. Bell can be reached at msbell@fas.harvard.edu.