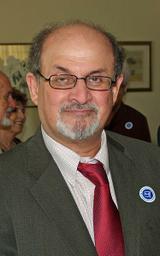 The news from Gawker is that 62-year-old novelist Salman Rushdie, who is famous for his womanizing, has discovered the Harvard vixen: he's "out on the town" with Min Katrina Lieskovsky '03, 27. And they've been flirting on Facebook.
Rushdie's novel Midnight's Children won the Booker Prize in 1981 and in 2008 was named the best of all Booker Prize-winning novels in the illustrious British prize's first 40 years. Not content with simply writing, Rushdie, who is a master conversationalist, has also acted in movies, and made a cameo in Bridget Jones's Diary. In 1999, he had an operation on tendons in his face to enable him to better open his eyes, perhaps to the detriment of his ravishing look of manly semi-consciousness. But his sharply angled eyebrows and goatee still create an image of a pensive rogue.
Rushdie was famously the subject of a fatwa requiring his execution issued by Iran's Supreme Leader Ayatollah Ruhollah Khomeini. Recently, he has argued for greater rights for Islamic women. In 2006, when British Leader of the House of Commons Jack Straw criticized the wearing of the niqab, a veil that covers all of the face except the eyes, Rushdie supported him, saying his three sisters would never wear the veil, and adding: "I think the battle against the veil has been a long and continuing battle against the limitation of women, so in that sense I'm completely on [Straw's] side."
The main character in Rushdie's Booker Prize-winning novel Midnight's Children, Saleem Sinai, has been called his most beloved character and is often identified with Rushdie himself. Saleem struggled with a magical "snot-nose, cucumber-nose," as well as impotence. More greatness post-jump.
Rushdie's dashing appearance, feminism, and complex literary personae would seem to make for an interesting romantic life. And Rushdie is famous for his womanizing. He has been married four times, most recently to supermodel and Top Chef host Padma Lakshmi, from 2004 until 2007, when she ended the marriage. Since then, he has been linked to the Indian model Riya Sen and actress Pia Glenn. Rushdie's father was a University of Cambridge-trained lawyer turned businessman, and Rushdie himself studied history at King's College, Cambridge. Now Rushdie has fallen for the American Ivy League voodoo. According to Gawker, he now with Min Katrina Lieskovsky '03, a half-Hungarian and half-Chinese former religion concentrator who wrote her senior thesis on the Khmer Rouge genocide in Cambodia, studied the intersection of anthropology and literature and biology, loved traveling, and dreamed of being Angelina Jolie's assistant doing UN work in Cambodia. "I can't think of anything that make her anything like other people. I don't know if she has any human traits really," her blockmate Jennifer L. Nelson '03 told the Crimson way back when. "She has a really interesting mix of spontaneity and excitement, but also depth," said Johanna E. Lanner-Cusin '03. "She brings a lot of things together." Min said that she "would just love to hang out [in Cambodia], hang out with movie stars but help land mine victims, too" because "there's too little glamour in volunteer work."
These days, according to Gawker, which borrowed liberally from the Crimson archives for her college story, Min is continuing to develop her interests in literature and anthropology as a "Writing and Ethnographic Marketing Consultant." And she's still glamorous. She dates famous male models and sends Rushdie Free Love Cookies on Facebook. Once, she wrote about her sex life on a blog called "Mongol Whored." Gawker truly outdid itself to get to the steamy blog—Min had last posted in January 2008, and set it on private—but, unscrupulous Gawker reported gleefully: "the Google caches everything, you know."
When Min went to Harvard—she remembers partying to Nelly's "Hot in Herre"—she could believe in at least a false privacy. No longer. So remember: don't just set your secret blogs on private—delete them. Then your romances with lusty literary luminaries can be both hot and Gawker-free.
blog comments powered by

Disqus