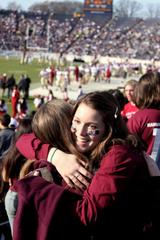 You know how Yale was supposed to be way more lenient about tailgating at The Game? Someone forgot to tell the Yale Police.
The Eli popo wrote up three minors for possession or consumption of alcohol, according to the Yale Daily News. That's compared to no citations in 2007 when The Game was last in New Haven in 2007.
Yale Police Chief James Perrotti attributed the increased police activity to a new polic detail dedicated to "panhandling and public drunkenness....The detail was not established to monitor underage drinking and alcohol purchases, Perrotti said, though Yale students have happened to 'cross its path.'"
Yikes. Flyby managed to avoid the cops in our tailgating revelry, and the official tailgate rules still beat the ones in Boston. But still, here's hoping that unit's disbanded by 2011....
blog comments powered by

Disqus