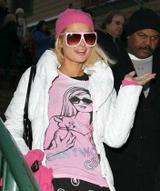 In response to the encroaching reality of adult life, the class of 2009 will be letting loose tonight with a "When I Grow Up" party that promises to answer all the questions of the anxious senior heart -- or conjure up shattered dreams.
Not sure what to wear? Why, whatever the professional you of 2020 would, of course. Still no dice? With some help from the Pussycat Dolls, we've compiled some general aspirations held by Harvard grads and five-year-olds alike, along with the respective role models/potential wardrobe solutions.
"When I grow up,
I wanna be famous
I wanna be a star
I wanna be in movies…"
ROLE MODEL: Paris Hilton. Duh. You don't even need to do anything. This one's perfect for that small yet obscenely wealthy percentage of Harvard students who can simply use their parents to jump start their success.
"When I grow up
I wanna see the world
Drive nice cars
I wanna have groupies…"
ROLE MODEL: The Pope. He drives his own glass-encased vehicle, sick real estate, is constantly on the road, and has 1.131 billion followers…what more could you ask for? Bonuses include a cool hat and infallibility. Warning: you may lose some Catholic friends over this one.
"When I grow up
Be on TV
People know me
Be on magazines…"
ROLE MODEL: Members of the Fundamentalist Church of Jesus Christ of Latter Day Saints. That's right. What better way to plaster yourself all over national media than bigamy and über-vintage outfits? And with costumes like these, you'll be instantly recognizable.
"When I grow up
Fresh and clean
Number one chick
When I step out on the scene…"
ROLE MODEL: Drew Gilpin Faust. Seriously. This lady commands serious respect regardless of where she chooses to "step out."
How to get this look: head to Goodwill, purchase pantsuit, change, go to party. That's it. No makeup or bling necessary. Optional: shoulder padding.
blog comments powered by

Disqus