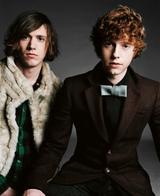 What if Pharrell remade The Hangover, but instead of casting four actors, he got Chester French, Clinton Sparks, Jadakiss, and P. Diddy to party together? And what if it wasn't a music video but actually a commercial for Diddy's vodka brand?
You would get the hot, sweaty, 80 proof video for "Ciroc Star," a single from Jacques Jams Vol. 1, Chester French's collaboration with Clinton Sparks. The duo just dropped the "Ciroc Star" video in an e-mail to fans yesterday.
The concept: whatever happens in Vegas, stays in Vegas. That is, unless you are Maxwell Drummery '07, D. A. Wallach '07, and their A-list posse, in which case you videotape said happenings and edit them with so many bright flashes, trippy angles, and choppy shots that you probably make it unsafe for viewers with epilepsy.
So what actually happens in the video? The question is, what doesn't happen? The French team and Sparks swagger in the desert to mystic bedouin music, dressed like a cross between MGMT and New Boyz in a Godard film. There is a closeup of the "Welcome to Las Vegas" sign. There is a collective swagger into Diddy's Vegas haunt, Vanity Nightclub, in which the artist formerly known as Puff Daddy appears to lick a fat stack of poker chips. Around the 2:40 mark Jadakiss raps an elegant ode to the eponymous beverage, "the best premium vodka ever," and we're sold. Kinda like Chester French. And just in case we forget the real headliner, there are plenty, plenty of glamor shots of the vodka bottle from pretty much every angle.  "I'm a Ciroc star," D. A. croons, accent on the "Ciroc."
This article has been revised to reflect the following corrections:
Correction: Feb. 1, 2010
A previous version of this post stated incorrectly that the artist Sean Combs is formally known as Puff Daddy. In fact, he was formerly known as Puff Daddy and now goes by Diddy or P. Diddy.
blog comments powered by

Disqus