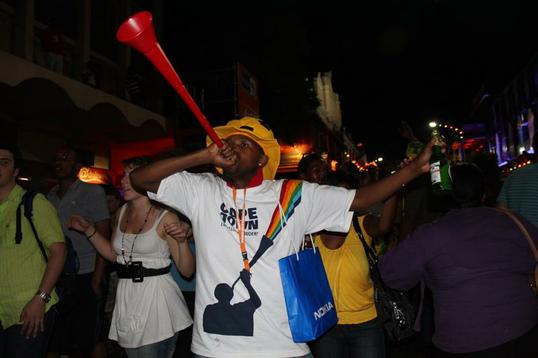 Though vuvuzelas were banned before having an opportunity to potentially become a Game Day tradition, they won't soon be forgotten given that the Harvard University Archives added a vuvuzela to its permanent collection earlier this month.
After Eric M. Cervini '14 and Johnathon H. Davis '14 sold over 500 vuvuzelas as part of their "Silence Yale" campaign—an attempt to drown out Yalies during The Game with a grand chorus of red plastic noisemakers—the Archives decided that the overwhelming student response to the campaign warranted an addition to their collection. "Believe it or not, we do read The Crimson," said Virginia A. Hunt, the archivist overseeing collection development at the Archives.
Cervini and Davis said they were surprised at the Archives' interest in purchasing one of the vuvuzelas. "We were kind of amused at first," said Cervini, "but it's exciting to see it become part of history."
The Harvard University Archives aims to document university life through a variety of artifacts, from budget reports to student diaries. "Going forward, we could see [the vuvuzela] as something people would find interesting 50 or 100 years from now," said Hunt. Whether or not it's simply a passing fad, the vuvuzela is here to stay—at least in the Harvard University Archives.
Photo courtesy of Wikimedia Commons.
blog comments powered by

Disqus