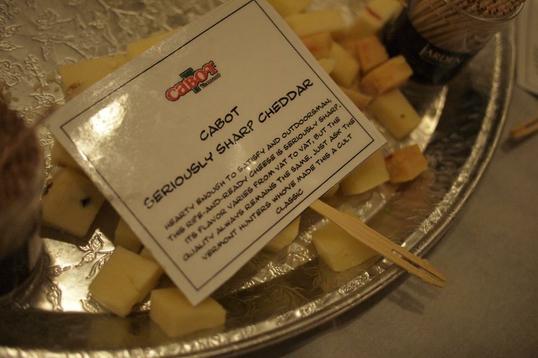 Over one hundred hungry students and some well-aged individuals showed up to devour several different samples of local artisanal cheese at the Cheese Tasting Expo in Ticknor Lounge today.
This event, co-sponsored by the Food Literacy Project and the non-profit Keep Local Farms, attracted a large group of both cheese-lovers and free-food lovers. It was meant to bring awareness to the local farms, while enabling students to learn about the New England dairy industry and cheese making process.
The cheeses, such as gouda and cheddar, were made in various locations in New England from Smith's Country Cheese of Massachusetts to Pineland Farms of Maine.
Those who were lucky enough to stick around for longer got a chance to learn about the cheese making process from David J. Smith, owner of Smith's Country Cheese. Smith, also known as Age Gouda, had students answer trivia questions for free T-shirts and free bracelets were passed around.
Alyssa P. Murray '12, a self-proclaimed cheese-lover, said, "I thought it was really entertaining and unique event. We usually bring in established speakers and it was refreshing to have a dairy farmer with big belt buckle to come and speak."
When asked what she thought of the cheese, Murray responded, "They were good. I liked the aged gouda. Harvard should use [these] cheese for cheese night, in support of local farms."
Sadly, the Age Gouda informed the crowd that he doesn't give tours of his factory; there is however a DVD available at his farm that showcases the entire cheese-making process.
Photo by Kane Hsieh/The Harvard Crimson
blog comments powered by

Disqus