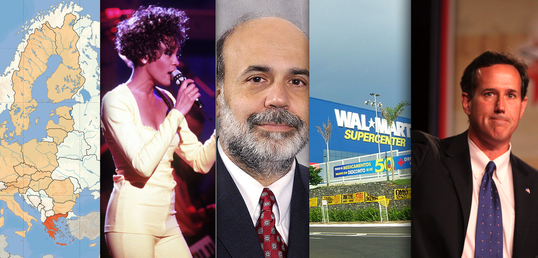 Here from Flyby: The week, a review. 
1. Former Pennsylvania senator Rick Santorum surged ahead of former Massachusetts governor Mitt Romney Tuesday night after wins in Colo., Minn., and Missouri. A poll done by Public Policy Polling gives Santorum a 15-point lead over Romney and a 21-point lead over Newt Gingrich, whose candidacy has been plagued by financial struggles. But, later in the week, Mitt Romney reminded everyone that he is still a force to be reckoned with and a strong potential candidate for the GOP presidential nomination with a victory in the Maine caucuses and the unofficial endorsement from activists in the Republican party at the Conservative Political Action Conference (CPAC).
2. Greece is close to a vote on its austerity package, which would grant the country a bailout to avoid economic chaos. The package will cut "3.3 billion euros ($4.4 billion) in wage, pension, and job cuts this year alone, to secure funds Greece needs to avoid bankruptcy next month," according to Reuters. The European Union and the International Monetary Fund are requiring that Greece commit to substantial financial reforms in order to receive the bailout.
3. The Fortune 500 was released this week, announcing Walmart as the top company for the second year in a row, followed closely by Exxon and Chevron. Fortune magazine reports that Wal-Mart Stores had a profit of over $16 billion in 2011.
4. We'll always love you, Whitney! Music icon, Whitney Houston, died Saturday at the age of 48. No news yet as to the cause of death, but speculations are in the air given the superstar's past struggles with drug addiction. Authorities are investigating the cause of death.
5. Chairman of the Federal Reserve Ben Bernanke issued a statement on Friday claiming that lingering problems with the housing market are holding back the American economy. Since their peak in 2008, home prices have fallen by 40 percent, leaving American home owners with less money. This has deterred spending and investment in the economy, causing the Fed's policies to be less effective, according to Bernanke.
UPDATED: Photo. February 13, 2012. 9:05 a.m.
blog comments powered by

Disqus