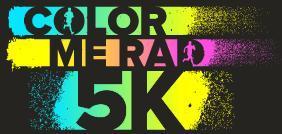 In town and looking for some good, healthy fun? Color Me Rad, a charitable 5K-run that supports the Simon Youth Foundation while turning runners all sorts of colors, is coming to Boston on Sunday.
The Color Me Rad group is touring the country this summer, coming fresh off of stops in Oklahoma City and Omaha, Neb. The organization encourages active, healthy living while supporting local charities and pure summer fun. Every participant starts the race in a white t-shirt and is then coated from head to toe by the "color bomb squad," which lines the side of the course and makes sure that every participant ends the race with "a shirt tie-dyed with color, a bigger grin, and a lot more RAD."
Sunday's race is already sold out, but never fear: Color Me Rad will be returning to Boston next summer.
blog comments powered by

Disqus