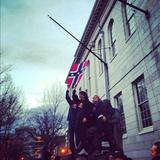 Housing day is upon us! In just seven short hours, freshmen will recieve their housing day assignments, marking the exciting next step in their Harvard experiences.
Want to join in the fun? Send us your river run and Housing Day snapshots via Instagram or Twitter, using the hashtag #flybyhousingday. We'll pick the best ones and put them up on Flyby for all to see.
Captions are encouraged!
Here's what we want to see:
-river run festivities/ the lack thereof
-housing day madness
-people covered in body paint
-great costumes
-running around the yard
-Annenberg tomorrow morning
-housing t-shirts
-anything to do with river run or housing day!