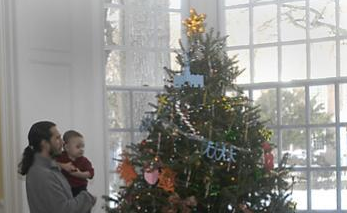 Looking for a Christmas/Hanukkah/holiday present for your family or friends? We've found gifts for under $25 from a variety of stores around the Square.
Harvard Square's Holiday Craft Fair
Located at the First Parish Unitarian Church right across the street from Johnston Gate, the annual Craft Fair sells everything from thick hand-knit sweaters to handcrafted wooden kitchen utensils to t-shirts emblazoned with puns. Don't be fooled by the three stands set up outside—if you go downstairs, the whole basement is devoted to different booths of crafts. While many are on the more expensive side, there are definitely good deals to be found. A few of note are from a booth set up outside: earrings made from recycled aluminum from computer parts ($10) and others from recycled glass from windows ($8). Downstairs, you'll find a booth devoted to hand crafted and painted mugs ($20) and another filled with homemade bath fizzies, lip balms, and body oils (all 5 for $25).
The fair will be open December 8-9, 14-16, and 18-23.