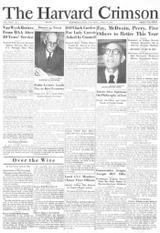 Every week, The Crimson publishes a selection of articles that were printed in our pages in years past.
April 24, 1940: Anti-War Chest Drive Announced by Student Union
Announced by the Harvard Student Union after its executive meeting last night is a new drive to raise funds for a national Anti-War Chest to be used in the cause of peace.
G. Robert Stange '41 of Lowell House is in charge of the Harvard drive which will consist of the sale of "peace bonds" intended to supplant the Liberty Bonds of the last war.
Stange said, "Instead of spending money for continuing a senseless war, the investors in the peace bonds will be contributing to making an allied front of inside information on the futility of a new one."