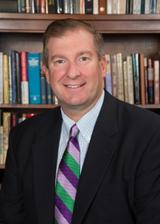 In this mini-series, Flyby profiles one of the seven fall 2012 IOP Fellows each week. This week: Brett M. O'Donnell.
"I'm a frustrated drummer," IOP fellow Brett M. O'Donnell said. Caught between his desires to become a musician or work in communications, O'Donnell ultimately chose communications. To this day, he remains a jack of many trades.
From starting his own company, O'Donnell and Associates, to co-founding the charity Healing Hands of Joy in Ethiopia, O'Donnell works in a variety of different areas. However, he is best known for his work as a political debate coach, working with candidates from George W. Bush to John McCain to Michele Bachmann to Mitt Romney.