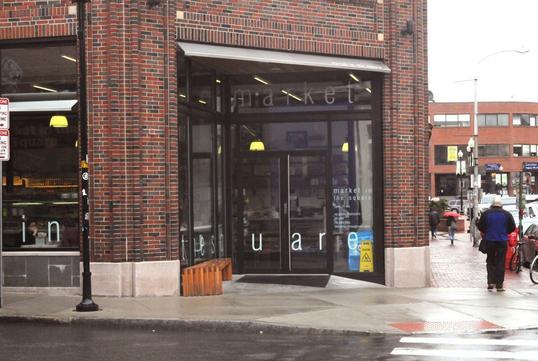 It's 1:30 in the morning, and you're hungry. But where do you go? It is a divisive debate among the Harvard student body, and loyalties to the Square's late-night stops run deep. Over an 11 day period, The Crimson will debate 11 popular choices around campus. Now up: Market in the Square.
How do I love thee?  Let me list each way.
I love thee in the despair and darkness at the height
Of an endless all-nighter when exhaustion blurs my sight
I love thee as I welcome the dawning of a new day.
Stumbling innocently into thy great fluorescent light
I love thee, emotion shared by seniors and by frosh
I love thee dearly for the offerings and late-night nosh
I love thee purely, but in thy sushi I take alimentary delight
For delicious food, and not a chemical compound from CVS
I love thee with a faith in humanity I seemed to lose
When all other establishments so early close their doors
Certainly, a feature that's far better than the rest
When I want food in that hour most suited for a snooze
A brief respite from what's left to do of my late-night chores.
Behind its shining glass façade, Market in the Square is the radiant beacon in the bleak darkness of all-night studying. It is salvation at a time when Lamont is emptying out, the dining halls are being cleaned, and jaywalking becomes a right, not an obnoxious privilege.
Late night food is all about satisfying cravings. And the bottom line is that Market in the Square can do so without causing remorseful nausea and weight gain after consuming greasy lumps of fried dough and questionable chemicals with shreds of mystery meat masquerading as sweet and sour chicken.
With a symphony of flavors at your disposal—unlike the monotone grease-and-salt that are the staple of other late night food joints—the Market is where you are sure to find what you need. If you have a discerning sweet tooth and want Chimes Mango Ginger Chews rather than a gritty chocolate faux-Hershey bar from CVS, Market in the Square has its wonderful selection of gourmet and international snacks at your disposal. But it isn't limited to your late-night cravings; if you're getting started on some late-night baking but are missing sour cream, Market in the Square also carries an assortment of grocery essentials.
It's probably the most serene of any of the after-hours stops. At the Market, you can peacefully settle into one of the polished metal seats with (optimal day-time people watching) and gaze out into the snowy night as you sketch paper outlines and economic models.
Put simply, Market in the Square has real food for real students who have yet to learn the concept of sleep. And there are a lot of us out there.
blog comments powered by

Disqus