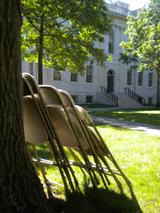 This post is the final post of a short series on the students sticking around in Cambridge to help out with class reunions.
The 100 tables and 1,000 chairs that await alumni don't just magically appear under the big tents. Hours beforehand, a brawny crew of Alpo workers—short for Al Powers—had set them up.
But their setup routine wasn't the leisurely unstacking and unfolding that one would expect. Rather, it was a game.