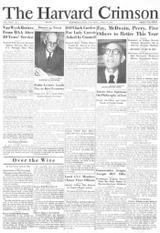 Every Friday, The Crimson publishes a selection of articles that were printed in our pages in years past.
April 2, 1929: Historic Engine Makes Debut in Square Today
At exactly five minutes past one today a fire engine of the Cambridge Catamounts, historic New England fire-fighting aggregation, drawn by six "Fire B'hoys" will make its appearance on Harvard Square.
The engine, the one to be used by the Hasty Pudding Club for its production "Fireman, Save my Child," will start from an unrevealed place on Church Street and go up to the Square.
April 1, 1937: More Athletics Asked for by Law School Students
Law School students are making a concerted demand upon the H.A.A. and University Hall through the means of a special committee appointed by the Law School Committee of Phillips Brooks House for better and wider athletic facilities.
In a letter which was sent to President Conant, the director of athletics, William J. Bingham '12, the Dean of the Law School, James M. Landis, the Corporation, the Board of Overseers, and the Hygiene Building through Arlie V. Bock, Henry K. Oliver Professor of Hygiene, as well as others, the committee made plain that they desired that a wholly new plan of athletics be put into force for the Law School.
Specifically they are desirous that there be a paid secretary appointed by the H.A.A. to organize intra-mural sports for the Law School dormitories. It is expected that touch football teams and soft ball baseball teams will be organized among the Law School Halls, and among those outside the Halls.
April 6, 1953: Communists Unqualified for Faculty Posts, States Report of Universities
Communists are unqualified to teach in the universities, and professors should be wary of hiding under the Fifth Amendment, according to a statement of the Association of American Universities, issued over the vacation.
Provost Buck officially represented Harvard at the meeting of the 37 colleges, which also urged universities to cooperate with legislative inquiries.
April 6, 1970: Professors Seek Autonomy for Social Psychologists
The decision of Harvard sociologists to leave the Social Relations Department and form a department of their own has encouraged some social psychologists in Soc Rel to consider taking similar action.
The Soc Rel faculty approved on March 6 the creation of an independent Sociology Department, subject to final approval by the Faculty of Arts and Sciences. The fields of social psychology, developmental and personality psychology, and social anthropology remained within Soc Rel.
"What's left is a kind of 'Remnant Relations,'" Thomas F. Pettingrew, professor of Social Psychology, said yesterday. "It makes very little intellectual sense and is extremely bad for the development of social psychology."
Pettigrew has suggested that social psychology combine with developmental and personality psychology, with social anthropology shifting to the Anthropology Department.
April 4, 1980: Toxic Fog Drifts over Area
A railroad tank car rupture in Somerville sent a huge white cloud of toxic gas drifting over parts of that city, Cambridge and Boston yesterday, forcing thousands to flee their homes and jobs, and sending 100 victims to local hospitals.
Police evacuated nearly 10,000 residents from parts of Somerville yesterday, while in nearby East Cambridge officials bused students to schools in other parts of the city, away from the haze of phosphorous tricloride.
Workers covered the last puddles of leaked phosphorus trichloride with dirt last night, and officials said the area was out of immediate danger as evacuated residents began to return to their homes.
—Compiled by Nikita Kansra, Hana N. Rouse, and Julie M. Zauzmer
blog comments powered by

Disqus