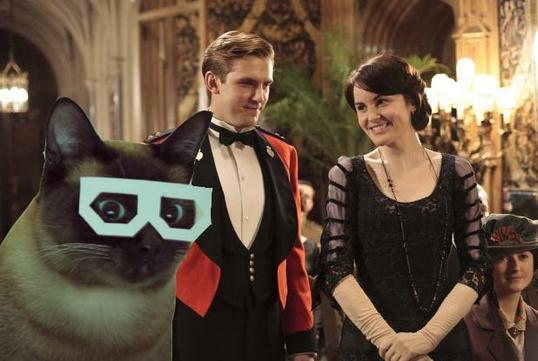 Whoa. I can't believe it's been a whole week since the last time I shared some videos with you. It's been a pretty busy week.
Did you see the season finale of "Downton Abbey"? That show is so great. Bates is obviously the best character because of how he is the nicest, most awesome dude. I also like Carson, because he does not take any guff from anyone. And Maggie Smith as the Dowager Countess is great; just a total one-liner-dispensing ice queen. Plus, the whole Matthew Crawley and Lady Mary thing? Mazel tov to those two. So proud of them. I feel so many feelings for them right now.
Anyhow, while I continue to remind myself to be more like Bates in every way, you should check out these videos I've culled together from the farthest reaches of cyberspace.
One Hundred Ridiculous Nic Cage Quotes
It's pretty easy to criticize Nic Cage for a lot of things: his hair, his inability to turn down a role, the fact that he straight up named his son Kal-El. But I also like this quote from Roger Ebert that best explains why I find the Cage Rage so endearing. Says Ebert, "However improbable his character, he never winks at the audience. He is committed to the character with every atom and plays him as if he were him." This is true. Nic Cage plays some crazy people and he always cranks it up to 11. I respect his commitment.
A Linsane Homemade Basketball Highlight Reel
I had a hoop just like this kid's hanging on the door to my bedroom. And I may or may not have done the exact same things that he does in this video. I didn't record them though, so I'm sorry about that. This kid definitely has some skills though. I hope they release this as an And 1 mixtape.
A Cat That is Way Into Dubstep
Cats and dubstep. So hot on the internet right now.
President Barack Obama Sings a Song and is Not Terrible At It
This column isn't meant to be political, and I have no interest in sharing my political opinions in this space or anywhere, really. I will, however, totally discuss how Obama is a much better singer than I expected, and is certainly more vocally proficient than the leader of the most powerful country in the world needs to be.
In an environment like Harvard, where literally everyone is a Nobel Laureate or discovered an element on the periodic table or something, it's tough not to feel alone or dejected. I get that. But you should always have at least one person you can turn to in times of need. Like if you are too short to get noodles off the counter.
Pool Trick Shot Sets Off a Ridiculous Domino Rally And You Will Almost Certainly Never Be The Same Again
I love domino rallies. There is nothing I love in the world more than I love domino rallies. They are so cool. Plus, this domino rally is combined with some pool trick shots which makes it probably definitely the best thing on the internet bar none.
A Man Has Goats Walk on His Back And Calls it a Massage
If they offered this type of massage in Lamont, I would spend way more time in Lamont. Can whoever plans those free Lamont massages look into this? Where is the nearest goat farm?
Technology is cool. I love technology. I probably use technology too much. But please be careful when you are walking and texting at the same time, or else you will end up like this woman. That set of steps totally showed her who's boss...and then more than 3 million people watched it over and over again on YouTube.
Anyway, that's all I got for this week. Come back next week when this column will almost certainly just be clips of Downton Abbey or things that remind me of Downton Abbey.
blog comments powered by

Disqus