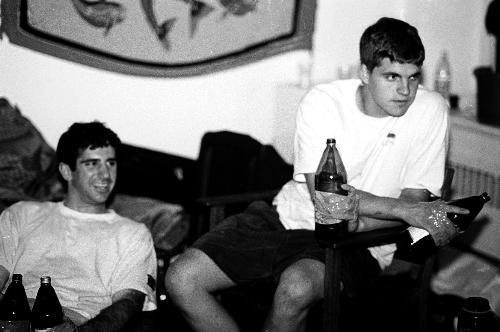 NO WRITER ATTRIBUTED
With 40-ounce bottles of beer packing-taped to their hands, six seniors sat in Pforzheimer 402 on the couches they had moved from room to room for the last three years. The plan was to finish the beers before they could reclaim use of their hands, a game proposed by blockmate Hallum Stevens.
They had plenty of time to reflect as the afternoon wore on. Talk drifted from their freshman year together in Canaday Hall, to their notorious drag performance in the Miss Pfoho competition, to their next, uncertain years, and even beyond, to children and suburban barbecues.
It was dead week, a ten-day limbo of booze and nostalgia where Harvard Seniors linger between their last finals and Commencement
Stevens and his blocking group took their reminiscence and fun seriously. The game, called Edward 40-Hands after the film, is on "the list," a compilation of two things each members wanted to do with the whole group before their time at Harvard ended.
From the carnivalesque (post-final celebratory shots)to the cultural (music festivals, soul food in the South End, Italian food in the North) from the crunchy (Bikram yoga and hiking) to the slick (clubbing and craps at Mohegan sun) from the stupid (Edward 40-hands) to the profound (reflection, letter-writing, and long talks on love and time) the list is a plan for last Harvard days, to come together before they depart.
Four Years of Steam
Some of them partied for four years, some of them worked. But during these last days, they all left the stress and academics behind them and came together to let loose.
With the exception of Matthew N. Ableson '02 , who transfered in their sophomore year from the University of Michigan, the group all knew each other from living on the same floor in Canaday, where they always left their doors open, making it a "totally chill" place to hang out, according to Stevens.
They have always had different priorities.
"Freshman year, I was in search of different people to block with," says Levin, "I thought these guys were kind of dorky."
Over the years, the group has often found it difficult to reconcile their different interests.
When Lee punched the Phoenix, his roommates mocked him for joining the finals club scene.
Levin bills himself as "the crazy kid in the blocking group" who forced his roommated to put down the books and go out.
"I'm the crazy kid in the blocking group," he said. "I'm the motivating force behind expeditions. I'm willing to say, I'm going out, you can come with me or not."
As soon as finals ended, however, the fun on the list began. When each member completed his last final, the rest of them greeted him at the exit with shots of liquor.
Staying Together
The point of the list is as much bonding as getting drunk.
Michael Y. Lee '02-'03 asked that each of the six write a letter to the other five, telling that person what they most value about him.
He said he felt he would have regretted not having a chance to express something meaningful to all of his closest friend.
"Especially for guys, there is a notion that we would be afraid to reveal that vulnerability, but we do," he says."The worst thing is feeling that you should have said something to someone after you leave, even if it's not positive."
The group plans to cook a big dinner for themselves the night that they exchange the letters, and hope to "make it pretty deep," according to Lee.
The members generally do not seem too daunted at the prospect of having to do so much writing in the next few days. They say it is worth it.
"Other people know that we're doing all this and they think it's really cool," says Lee.
"They could have done it, too, but they didn't want to lock up as much time with their blocking groups as we did," Joshua Levin '02 said.
With friends outside the blocking group, things are different.
"My blocking group is my quasi-girlfriend," Levin says."I definitely feel a little pressed for time, I have other friends, with them its the things we've always done, hang out and smoke. But it's hard to make time for that, too."
Drifting Apart
The differences between them have meant that they have had to try especially hard to keep their group together.
"The challenge is we're all so different. We wouldn't be such close friends if we had met each other on the street or in class," Lee said.
They have kept themselves together by keeping everything out in the open.
At the beginning of their senior year, for example, Ableson called everyone together and spoke to each one about what he valued about them and what he wanted them to improve.
These conscious efforts to keep the group together have come after some difficult experiences.
"We've had three years experience knowing what it takes for us to hang out," Lee said.
"We went in with the expectation that we'd be friends forever without having to work at it. But there was definately tension," Stevens said.
During their sophomore year, they lost one member of their group, with whom they are still friendly, but don't see socially often.
They also almost lost Lee, who decided to take junior fall off, transfering to be with friends in Eliot at the same time.
But during his semester off, he realized that "there was something about being all six of us" and transfered back.
After that, Lee says, they no longer shy away either from saying what they value in one another or from mentioning the negative aspects in their relationship.
The Other Senior Week
For the six, the list is a more personal way to end the senior year than the official activities planned by the Senior Class Committee, a series of barbecues, cruises, bar nights, a Champagne Brunch, and the notorious Last Chance Dance.
"Senior week has not been great for us," says Stevens.
"There's definitely a tension," adds
Lee. "It's cool to see everyone there––but there is a reason you're not friends with everyone."
"It's just not been the highlight of our senior year," says Joshua Levin.
The six had their hopes set high for the Last Chance Dance, a party at the Roxy club in Boston where seniors have a final shot at all of their romantic infatuations of the last four years.
"Let's skip ahead to the last chance dance," shouted Ableson near the end of the Edward 40-hands game. "It was spectacular! We all hooked up!"
Meanwhile, William G. Bain '02 finished his drinks and fell to the floor.
"This is normal," Levin said, familiar with Bain's habits.
After being thrown together four years ago by the Freshmen Dean's Office, the group is certain they will remain friends into the distant future.
"Josh always talks about having barbeques when we're older with kids. And how his kids are going to beat up all our kids," says Micheolangelo V. D'Agastino '02 . "We'll keep in touch, but it will be weird not just having each other around."
"I totally think of these guys like my family, in the sense that they are always with me and the love is so deep," says Ableson. "It's so heart-breaking to think this world is ending in a week and a half."
—Staff writer Eugenia B. Schraa can be reached at schraa@fas.harvard.edu.