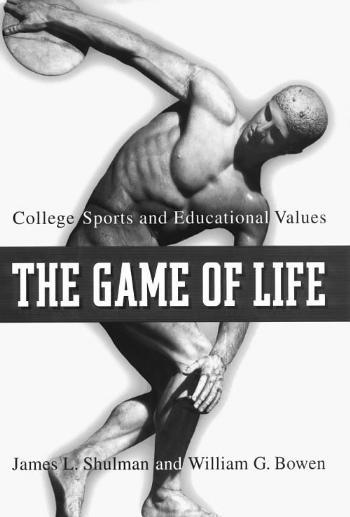 NO WRITER ATTRIBUTED
Two weeks from now, University President Lawrence H. Summers and the heads of the other seven Ivy League schools will meet to discuss league athletics policy.
On the table is a proposal to reduce the number of football players each school is permitted to recruit per year.
The proposal is not one that Harvard would seem likely to support. The University opposed the decision to slash the number of football recruits from 50 to 35 per year in 1991 and administrators from University Hall to the Murr Center have criticized the proposed move this year to decrease recruits further, to 25.
Yet the Ivy-wide trend to restrain the intensity of league athletics may prove to be unstoppable—presenting a serious challenge not only to competitive Ivy League football, but to all athletic programs and to Harvard's decades-old admissions philosophy.
Spurred by persistent concerns that big-time athletics were subverting the academic mission of higher education and straining university budgets, the Ivy League presidents asked their athletic directors last fall to consider not only reducing the number of football players but also cutting back on all recruited athletes.
Adding more fuel to fire, last year former Princeton president William G. Bowen co-authored an influential book, The Game of Life: College Sports and Educational Values, criticizing the growing professionalization of collegiate athletics, implicating the Harvards and Yales along with the Miamis and Penn States.
The Ivy League took a major step in the direction of scaling back football programs last month.
At a meeting in Vermont three weeks ago, the league's athletic directors reached a compromise that the number of recruits be reduced from 35 to 30 rather than 25, according to Yale head football coach John P. Siedlecki.
Last week, the issue was discussed by a larger committee of athletic directors and other Ivy university officials. This committee's recommendation will be forwarded on to the university presidents for a final decision.
While Siedlecki says 30 is "a number I can work with," he says he thinks a reduction of recruits to 25 would devastate Ivy League football programs by effectively eliminating junior varsity (JV) football programs, upon which coaches rely for developing underclass talent.
Harvard Director of Athletics Robert L. Scalise has voiced many of the same concerns.
Yet Summers has been uncharacteristically noncommittal on where he stands on cutting recruits, saying he prefers to wait until the Ivy university presidents meet June 17 before taking a side.
The silence from Mass. Hall leaves open the possibility that the new president, who has publicly fretted about the state of academics at the College, could depart from Harvard's traditional support for maintaining the highest possible level of athletic competitiveness in the Ivies.
Even if Summers, who visibly enjoyed Harvard football's undefeated 2001 season, does decide to fight for the status quo, some maintain that the momentum for change may be too great to overcome.
Siedlecki says some kind of reduction in recruits is all but assured when the presidents meet to decide the issue in two weeks.
"I hate to say it's inevitable, but I think it is," he says.
The Game of Life
Dean of the College Harry R. Lewis '68 is clearly one of Harvard athletics' biggest fans. Adorning the walls of his spacious University Hall office are pictures of Harvard Stadium, the 1989 NCAA champion men's varsity ice hockey team and the 1998 women's basketball team, which defeated Stanford in the first round of the NCAA tournament.
But sitting on a small shelf next to his desk rests a less conspicuous but perhaps more portentous omen for big-time Harvard athletics—The Game of Life.
Co-authored by Bowen and the Mellon Foundation's James L. Shulman, the book's criticism of professional-style recruiting and commercialization in college sports has generated much controversy and even more readership in administrative offices like Lewis' across the country.
Bowen and Shulman rank among the preeminent experts on college admissions. With former Harvard president Derek C. Bok, Bowen co-authored an influential study on affirmative action at top colleges, The Shape of the River, a project Shulman contributed to as well.
Even Ivy League Executive Director Jeffrey Orleans, who holds that The Game of Life has not played a significant role in the debate over Ivy athletic recruiting, says most Ivy League policy makers have read the book or are at least familiar with it.
In the book, Bowen and Shulman question whether the pursuit of high-profile athletic programs has diverted many colleges from their academic missions.
Using a database compiled over the last 50 years from selective colleges, the authors conclude that athletes often underachieve academically and segregate themselves from the school community—thus contributing little to the community beyond their athletic talent.
Shulman and Bowen also seek to dispel the "myth" that alumni giving depends on athletic success. According to The Game of Life, survey data show that alumni would rather their contributions go to initiatives such as undergraduate education or residential life than athletics.
Though the book includes data from Yale, Princeton and Columbia, some at Harvard aren't convinced that Bowen and Shulman's findings apply to the Ivy League—or to Harvard.
"The Bowen-Shulman book has stimulated a national discussion in which the Ivy League is certainly involved," Lewis says. "[But] it's a little confusing to take some of the major conclusions from the subject of the book to apply them to the Ivy League. We are in many cases different despite their attempts to fold us into their conclusions."
Director of Admissions Marlyn McGrath Lewis '70-'73 says that while Bowen and Shulman do sample some Ivies, their results don't apply to Harvard, where she says athletes—due to the randomized housing system and other factors—do not self-segregate as much they do at other schools.
"Our athletes are not different, as a group, from others," she wrote in an e-mail.
McGrath Lewis says Harvard did not choose to participate in the study because Harvard data would stand out too much, as Harvard students are "much higher in objective criteria than those in other colleges."
Shulman himself says Harvard could be "a complete outlier," saying he and Bowen have not yet examined data from Harvard.
But he says the patterns for the schools he did study, including those in the Ivy League, "were remarkably consistent."
He and Bowen currently are working on compiling and examining data from all eight Ivies so that in the future they will be able to determine how Harvard fits in with the trends they observed.
The Game of Life has also come under attack for its statistical methods.
Hal S. Scott, who is Nomura professor of international financial systems at Harvard Law School, will publish a report later this month arguing that the data Bowen and Shulman use is not fully representative of American colleges.
"The study is built on a non-representative data base of 30 schools that is actually only 26 and contracts to 18 and then 15 in the analysis of giving," Scott writes in his report.
Yet Shulman and Bowen do not claim to present conclusions that apply to all of higher education, maintaining that they selected 30 institutions—from small liberal arts colleges to Division I-A public universities—because they are leaders in the educational world and data on their athletics programs is comparable.
"The numerous economists who reviewed the book...felt that the research was well thought out and well documented," Shulman writes in an e-mail.
Scott also charges Shulman and Bowen with ignoring market forces in their criticisms of big-time athletics.
"The marketplace rejects [Bowen and Shulman's] educational vision," Scott writes. "Princeton would fail to attract many students it wants if its athletic program deteriorated...Successful athletics programs can attract good students who do not play sports."
But Shulman asserts the market does not always work. He argues that universities, as non-profit organizations, should seek the public good regardless of considerations of profit.
"If universities are market-driven, how long does the classics department last? Or basic research? The divinity school?" Shulman writes in an e-mail. "I would argue that letting the market decide what the educational values of an institution should be is to do exactly what strong leadership should not do."
The Game of Life is not the only recent book that has informed the debate over athletic recruiting.
Making The Most Out of College, authored last year by Richard J. Light, professor of education at the Harvard Graduate School of Education, offers a more optimistic perspective on recruiting. After interviewing students at 20 colleges, Light concludes that athletes as a whole are happier than the average student.
While Harvard authorities doubt the applicability of Bowen and Shulman's negative conclusions, Harvard athletes are quick to concur with Light's assessment.
Reducing the number of recruited athletes at Harvard would stifle campus social life, according to women's basketball captain M. Katherine Gates '02.
"I believe it would…kill the social scene—or what exists of it," Gates says. "Athletes bring a high degree of normality to the Harvard community in that they are the most well-rounded and socially functioning people at Harvard."
The Roots of Reform
The Ivy League—originally founded in 1945 as a football conference—has for many years been considering the issues raised by Shulman and Bowen's book.
"It struck a chord of worry that people already have," McGrath Lewis says.
In 1979, the Ivy League became alarmed at the prospect of big conference-style recruiting wars between league members, and Ivy presidents established an academic index to ensure that colleges were not sacrificing academic excellence for athletic prowess.
Using the index, admissions officers assigned recruits a score based on standardized test scores and high school class rank. The presidents then set a minimum score which recruits had to exceed.
"We didn't want to make admissions decisions to win conference championships," Orleans says.
The intense nature of many Ivy athletic programs also first caught the attention of the presidents at that time.
To try to reduce pressure on varsity athletes, the league adopted the recommendations of a 1980 report that limited practice and game schedules.
In 1991, in a move which Harvard opposed, the Ivy presidents decided to cut the number of football players per class from 50 to 35. The league also opted to eliminate freshman-only teams.
The Ivy League has not reformed its recruiting policies since 1991, but the increasing professionalism in college athletics has continued to worry schools in the conference.
The cost of maintaining a football program and the difficulties of complying with Title IX gender-equality legislation have factored into the equation as well.
Anita M. Brenner, who is associate athletic director at Cornell, says finances is "one of the things everyone is talking about" in the debate over whether to reduce football recruiting.
"Football's an expensive sport," Lewis confirms. "Everyone is worried about the cost of our intercollegiate program."
But Siedlecki says he doubts a reduction in recruits would alleviate the cost of running a varsity football program by any "appreciable amount."
He says the budget for traveling and for bringing recruits to tour Yale's campus would be essentially the same, even if there were fewer spots on the team.
Siedlecki agrees with Lewis, though, that Title IX is a driving force in the debate.
Under the 1972 legislation, colleges must take steps to ensure that the percentage of women participating in athletics equals the percentage of women enrolled.
Fewer football players would ease the pressure on athletic departments to comply with Title IX.
"It's hard when you have 110 people on the football roster and there is no women's football," Siedlecki says.
The View From Cambridge
Harvard, where old traditions die hard, has never quite toed the often-changing Ivy League line on recruiting.
For many years, Harvard prohibited coaches from visiting potential recruits even though the rest of the Ivy League allowed it. Instead, coaches relied on the Harvard reputation—and on aggressive alums.
It wasn't until a 1987 NCAA ruling forbidding alumni to contact recruits that Harvard was forced to change its policy and allow coaches to travel across the country and the world seeking additions to their teams.
Harvard opposed the 1991 decrease from 50 football recruits to 35, and with the exception of the reticent Summers, administrators have generally been critical of proposed further changes to recruiting.
In an April interview, Scalise warned that simplistic moves like cutting numbers of recruits would have "unintended consequences" that have to be considered.
Scalise has cautioned, like Siedlecki, that cutting the number of recruits would effectively eliminate the JV football program—contradicting, he says, Harvard's mission to provide athletic opportunities to all students.
In a May 16 e-mail response to a student concerned about the upcoming conference of athletic directors, Scalise said the push for "a reexamination of Ivy athletics" was "unfortunate" and pledged to fight against recruiting reductions.
Lewis says he believes cutting numbers will not solve the problem of Ivy athletics being too intense and will only increase pressure on the athletes that remain to be "the gladiators for Harvard."
Scalise agrees, arguing that since the Ivy League does not allow the common NCAA practice of redshirting, in which first-years are allowed to practice with a team without losing a year of eligibility, fewer recruits would mean more first-years would be rushed into playing bigger roles on the team.
On the other hand, Siedlecki says that without the opportunity for first-years to get playing time on a JV squad, his team would experience a much higher attrition rate because of players' frustration at having to sit on the bench.
Scalise says he thinks different Ivy schools have different recruiting agendas.
"A smaller school like Columbia would be more concerned about the numbers than some of the larger schools," Scalise says. "Thirty-five people take up a higher percentage of the class at Columbia than they do at Cornell."
To Lewis, the problem with Ivy athletics is not quantitative but qualitative. He says the varsity athletic experience has become too intense and recruiting overly competitive.
"The seasons are too long, there are too many contests, there are too many travel dates, the offseason is too formal and there's too much training and practicing," Lewis says. "All of the time and effort that intercollegiate athletes have to spend on their sports result in too often students having to make compromises between their athletic experience and their overall Harvard experience."
As one sport becomes more intense, it brings other sports along with it, Lewis says, igniting a chain reaction the Ivy policy committee refers to as "creeping incrementalism."
Lewis' view is prebecause it forces me to manage my time more efficiently," says Dalibor E. Snyder '02, a member of the men's varsity tennis team.
Varsity baseball pitcher W. Ben Crockett '02 says athletes who pick Harvard accept the school's academic demands and make a "rational choice" to sacrifice some extracurriculars or social activities.
"There are many other universities that offer more focused and prominent athletic programs than Harvard, so the desire to be an athlete here is based on the desire for academic excellence first," Crockett says.
In addition to the intensification of practice and game schedules, Lewis also says the increasingly professionalized recruiting process often leaves athletes overly beholden to their coaches, who have become more and more active in deciding their fate in the admissions process as the "arms race" has become more competitive.
In this race, unethical practices sometimes prevail, Lewis says.
"It's very hard to document when it happens, but it does happen," he says—though he says he is not indicting Harvard coaches.
While Lewis mainly worries about the impact of recruiting on student-athletes themselves, Summers has primarily commented on the dangers of compromising institutional academics standards.
"There's a strong concern to maintain the tradition, the Ivy League tradition of scholar-athletes and to agree together to maintain academic standards—not to sacrifice academic standards to the objectives of athletic recruitment," Summers says.
But he continues to hedge, adding last week that he doesn't "want to get ahead of the discussion of the other presidents" and that "he is very committed to Harvard having a strong, competitive football program as part of a strong, competitive athletic program."
No 'Floppy Ducklings'
The debate over recruits goes to the very heart of an admissions policy first articulated over half a century ago by former provost Paul Buck.
In 1946, Buck penned "Balance in the College," an article that continues to define Harvard's admissions policy. Buck called for a balanced student body rather than well-rounded individuals, who he referred to as "floppy ducklings" because they did not stand out in any particular area.
When Wilbur J. Bender became director of admissions in 1952, he enshrined Buck's idea of balance in the college as official policy.
"My prejudice is for a Harvard College," Bender wrote, "with a certain range and mixture and diversity in the student body—a college with some snobs and some Scandinavian farm boys who skate beautifully and some bright Bronx pre-meds, with some students who care passionately if unwisely…about editing The Crimson or beating Yale."
Bender often humorously observed that 25 percent of the class would be in the bottom quarter anyway, so it would be good to find people that would be happy there because they were contributing to the College in other ways.
While she does not think cutting a handful of recruits would spell doom for Bender's 50-year-old doctrine, McGrath Lewis says a significant reduction would not be in the spirit of pursuing the "mix of excellences" the admissions office has long pursued.
"It would be a shame to reduce the number of recruited athletes," agrees quarterback Neil T. Rose '02-'03 in an e-mail. "How many prominent citizens, businessmen and leaders out there were Ivy League athletes? Those who think Harvard should limit recruiting probably don't know many athletes very well."
Lewis says that while there may be problems with recruiting in the post-1987 era of coaches combing the nation in search of blue-chip recruits, the process is an important stimulus for diversity.
As coaches crisscross the country, they are able to reach constituencies the admissions office may not be able to find.
"[Athletic recruiting] draws people from places and backgrounds and parts of the country where excellence and achievement are much more identified with athletic prowess than with academic prowess," Lewis says.
McGrath Lewis says the current movement toward the reduction of athletic recruits could perpetuate a stereotype of athletes as "just athletes" which, at Harvard, she insists, they are decidedly not.
Unlike their counterparts at schools that offer athletic scholarships—which are forbidden in the Ivy League—coaches at Harvard have always had to grapple with the fact that athletes, even recruited ones, can quit their sports whenever they want.
With this fact in mind, the admissions office often applies a "broken leg" test to try to find athletes who could contribute to the school community even if faced with a career-ending injury on the field.
The football team, according to many players, faces a high attrition rate due to injury and to the intensity of its competitive schedule, but many former players go on to leadership positions in other areas.
Brandon A. Gayle '03, recruited as a cornerback after starring on his high school team, is one such football dropout. After quitting the team, he went on to become the president of the Black Students Association (BSA).
Gayle says there would have been "no way" he could have become so involved with the BSA were he still playing football, but that his football experience "had a very big influence on me in how I budget my time and how I lead people in general."
The Uncertain Future
If the Ivy presidents choose to cut the number of recruits, the debate will likely shift to the question of how they will be cut.
This promises to be a contentious process, since some schools may favor cutting the five recruits with the lowest academic indexes, while others may seek to eliminate recruits with the least athletic promise. Yet others may seek to trim recruits more evenly from among the various academic groupings, or "bands."
According to Siedlecki, cutting from the lowest bands could increase rates of attrition and could decrease racial diversity, since students with lower academic indexes tend to stick with the team and also are more likely to be racial minorities.
Harvard football coach Timothy L. Murphy would not comment on the implications of reducing the number of recruits.
Ultimately, though, it will be Summers and the other Ivy presidents who will decide the matter—a fact that is not lost on Bowen and Shulman, who urge university presidents to halt the increased professionalization of collegiate athletics.
If nothing is done, Shulman and Bowen's outlook for the future is dire.
"Intercollegiate athletics has come to have too pronounced an effect on society to be treated with a benign neglect," they write.
"Failure to see where the intensification of athletic programs is leading us," The Game of Life continues, "could have the unintended consequence of allowing intercollegiate athletics to become less and less relevant to the educational experiences of most students and more at odds with the core missions of the institutions themselves."
But Harvard traditionally has had its own priorities and does not seem likely to have its "core missions" dictated to it from outside Cambridge.
To many administrators, students and alumni, the long-time success of Harvard athletics is a major—if not core—mission of the University, and some believe that mission would be compromised by recruiting reform.
"The fact of the matter is that if the Ivies decide to reduce the number of recruits they will become a non-factor on the Division I-AA level," says defensive end Michael L. Armstrong '03. "We finished 19th in the nation this year and diminishing the number of recruits will have a negative impact on our competitiveness."
But as Siedlecki notes, it seems inevitable that athletic recruiting will be scaled back in the coming years.
Former director of athletics John P. Reardon '60 agrees that change is in the air.
"I suspect football will be the beginning, not the end," he says.
—Staff writer William M. Rasmussen can be reached at wrasmuss@fas.harvard.edu.