The Petitioners' Big Lie
October 24, 2002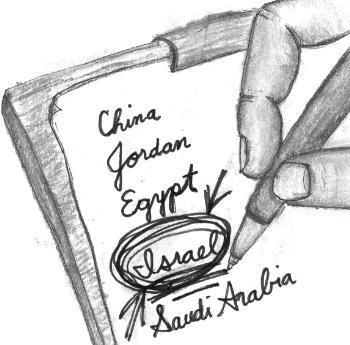 The new big lie circulating around the Harvard campus is that critics of Israel have been labeled anti-Semitic. The most recent purveyor of this lie was Winthrop House Master Paul Hanson who, as reported by The Crimson, complained at the faculty meeting about the very public attachment of the term anti-Semitism to criticism of Israel's policies. I challenge those who are spreading this lie to document their charge and to reveal specific instances where criticism of Israel has been labeled anti-Semitic. I myself have been strongly critical of Israel's policies with regard to the settlements, with regard to Israeli Prime Minister Ariel Sharon's foolish policy of destroying Palestinian Authority Chair Yasser Arafat's compound and with regard to sending rockets into densely populated civilian areas as part of its otherwise legitimate efforts to target on-going terrorists. I favor a Palestinian state and strongly support the peace process. Nobody has ever accused me of being anti-Semitic. Nor to my knowledge has anyone ever accused other critics of Israel of bigotry. University President Lawrence H. Summers went out of his way to make it clear that criticism of Israel is entirely legitimate and not anti-Semitic either in intent or effect.
There are, however, actions and words that clearly are anti-Semitic, some in intent, others in effect. For example, the malicious claim by New Jersey poet laureate Amiri Baraka that Israelis were warned in advance to stay away from the World Trade Center on Sept. 11 is plainly anti-Semitic in intent, despite the fact that it mentions only Israelis and not Jews. The divestment petition, which singles out Israel for criticism in the face of the reality that its human rights record is far better than that of any other nation in the region, is anti-Semitic in effect because it demonizes and delegitimates the only Jewish nation for sins committed far more frequently and grievously by others. As Thomas Friedman of the New York Times has written: "criticizing Israel is not anti-Semitic, and saying so is vile. But singling out Israel for opprobrium and international sanction—out of all proportion to any other party in the Middle East—is anti-Semitic, and not saying so is dishonest."
A good working definition is taking a trait or action that is widespread and singling out only Jews for criticism for that trait or action. I am reminded of former Harvard President A. Lawrence Lowell's attempt to start a debate at Harvard in the 1920s about whether the number of Jews should be restricted because Jews cheat. When a distinguished alumnus pointed out that non-Jews also cheat, Lowell replied that the alumnus was trying to change the subject, because Lowell wanted to talk about Jews. So too with divestment. When the human rights records of Egypt, Jordan, Saudi Arabia, China and other countries are pointed to, those who favor divestment say, "you're changing the subject; we're talking about Israel."
I now challenge those who are claiming to have been accused of anti-Semitism to provide evidence that mere criticism of Israel has been labeled anti-Semitic. The time has come to put up or stop misleading your colleagues and students.
Alan M. Dershowitz is Frankfurter professor of law.