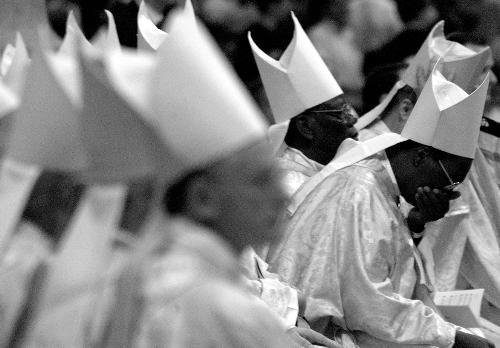 NO WRITER ATTRIBUTED
Last month, Harvard's Office of Career Services held a seminar to introduce students to the recruiting program. Numerous upperclassmen piled into Science Center C, Palm Pilots in tow, eager to enlist in the cult that is on-campus recruiting. The moguls-to-be entered the meeting cocky and left nauseous.
Recruiting Director Judy Murray warned the audience that job offers might be sparse this year. She predicted that fewer companies will visit campus than in past years, and that those who do come to recruit will reduce their interview schedules. Murray explained, "In order to motivate students, we usually tell them to pretend that this job market is the worst in years. Well, this year, you won't have to pretend." Murray then let out a light chuckle, as if to intimate that she was half-joking. Her laughter was not contagious.
But take heart, seniors! There are jobs out there besides investment banking and strategic planning, many of them livestock-related. FM presents five hot new careers in the New New New Economy.
Priest
Ah, the priesthood. It's sort of like consulting for God. Becoming a priest has several obvious benefits including spiritual fulfillment, eternal bliss and invaluable community service. Plus, it's a great way to meet women and not have sex with them. Most importantly, the priesthood is a pretty stable industry. Recessions, corporations and governments come and go, but religion is here to stay. As the wise poet Horatius Lucretius Quintus wrote, "Amice, semper populi sacerdotum egent," which translates, "Dude, people always need priests."
Harvard's own Memorial Church is a great place to begin your quest toward holiness. Each year, the church holds an informational dinner for students interested in joining the ordained ministry in some vocational capacity. Seats are snapped up more quickly than the condoms in the laundry room, so make your reservation ASAP.
Shepherd
"I wanna be a shepherd...I wanna move up to Nashua, get a nice little spread, get some sheep and tend to them." Of course, these wise words belong to Will Hunting, but Matt and Ben, always in tune with the nation's youth, seem to have keyed into a desire that we all share. The time has come to act on that wish, to care less about our stocks and more about our sheep.
Getting ahead in the shepherding biz is tricky. If you plan on starting from scratch, first you'll need some sheep. Toward this end, an excellent resource is the National Tunis Sheep Registry (ezrone.com/ntsri), which prominently advertises "Sheep and Stuff for sale." Of course, procuring the sheep is only the half the battle. You won't want to kill your sheep, so check out Sheep! Magazine (sheepmagazine.com), taking careful note of tips such as, "Consider treating rams and ewes for worms, if necessary" and "Avoid overfeeding." Baa.
Aesthetician