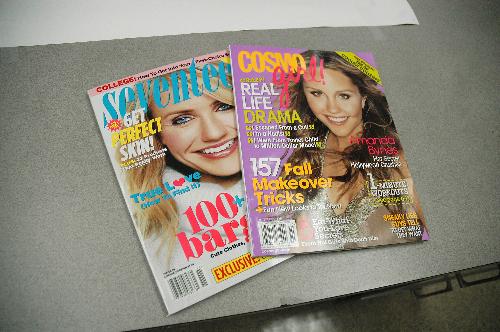 NO WRITER ATTRIBUTED
A new magazine inspired by YM, CosmoGirl, and Seventeen will launch at Harvard this December.
If its editors live up to their ambitions, the quarterly, entitled Freeze, will run on 64 glossy, full-color pages, rivaling only last spring's issue of H Bomb in terms of sheer volume.
Founder and president Thea L. Sebastian '08 says Freeze will take most of its cues from the YM set, with content tweaked for a more mature audience. According to Sebastian, the first issue will include a quiz—something along the lines of "are you catty?" she says.
Freeze will also crown the 10 hottest guys at Harvard and include an eight-page photo spread about fashion.
Models for the shoot are actual Harvard undergrads, auditioned and chosen over the course of two hours on Monday evening in Leverett House.
According to Freeze's group profile on Facebook.com, the magazine will be perfect for when "you want to take a break, ogle some amazingly hot guys, read up on health and fitness, discover the newest fashion trends, or just lighten up."
The magazine will be sold around campus for $2.95. According to Sebastian, the $7,500 dollar price-tag printing job is too steep to allow free distribution, making it the first Harvard publication in recent memory to charge students money. Whether Freeze will overcome the barrier remains to be seen—after all, there's no guarantee that their business model will be viable at a place like Harvard, where even the free publications often get ignored.
But Sebastian doesn't expect Freeze to have much in common with any other Harvard publication. "I love law, and I love government stuff," she says. "But sometimes you just want to relax—you don't want to think about the political situation in Uzbekistan, and you'd rather just sit back and look at pictures from a fashion shoot."