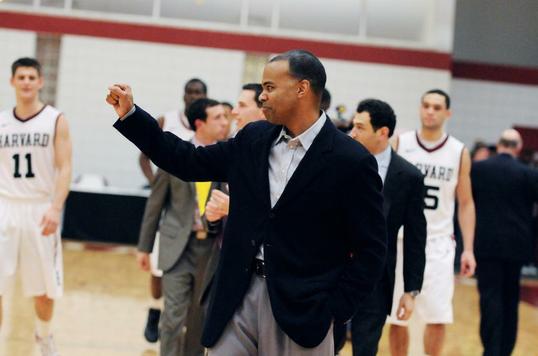 This Saturday marks the official start of the 2012-13 campaign for the Harvard men's basketball team. And for the second straight year, students can be a part of the first official team practice, as Crimson Madness takes over Lavietes Pavilion at 1 pm tomorrow.
If you haven't marked this date in your calendar yet, you should.
Don't believe me? Here are five reasons it's probably time to dust off those 'Harvard Hoops' t-shirts and head across the river.
1. Keep a tradition going.
In its second straight year, Crimson Madness may not be anywhere near the age of most things in Harvard Yard. But schools across the country host similar events each year. The tradition, known as Midnight Madness—in which teams play in front of fans at the earliest moment they are allowed by NCAA regulations—was started at Maryland in 1971.
"What we're trying to do [with Crimson Madness] is to create a tradition," Harvard coach Tommy Amaker said. "I think last year was incredibly successful, and it led into a very positive season for our ballclub.... I know our kids, our players, are very excited to have an opportunity to play in front of fans and our students."
Who knows, if you keep this going long enough, in a few years' time, there won't be a student at Harvard who remembers a time before the Madness.
2. Scope out new talent.
This year's freshman class, simply put, is one of the strongest Harvard has ever had. And what better way to get to know these new faces than by watching them take the court against each other.
"[Crimson Madness is] a neat way to be introduced or give a quick glimpse into our team and certainly our incoming freshmen—people are always interested in seeing who the newcomers are," Amaker said. "This is a nice chance to see these kids right away in an environment that's fun, festive."
Not to mention that with key roster changes—both expected and unexpected—players you may not have heard of yet (including some rookies) will see time for Harvard this year. Of the Crimson's consistent starters from last season's Ivy championship team, just junior co-captain Laurent Rivard remains on the team. It's time to learn some new jersey numbers.
3. Get to know Siyani Chambers.
Speaking of youngsters, rookie point guard Siyani Chambers is someone to keep your eye on.
The departure of second-team All Ivy point guard Brandyn Curry paired with the loss of sophomore Corbin Miller—who took a leave for religious reasons—leave Amaker and the Crimson with a big hole to fill at the point.
"Our young guys are going to have chances, and there will be opportunities sometimes for others because of personnel," Amaker said. "I think Siyani will be one of those individuals that, because of personnel, we need some of the things he brings to the table probably a lot sooner than we ordinarily would."
As of right now, all signs point to Chambers taking over as a go-to guy in Harvard's backcourt.
"I think Siyani's going to be a key component to our team," Amaker said. "There's no question. The production we're going to need from our backcourt, our perimeter, and especially our point guard position is going to be critical."
If you plan on being a part of the student section at any of the Crimson's games, Chambers is definitely a name you'll want to know.
4. Learn some Italian…or at least see who's improved over the summer.
It's been a while since you've last seen Rivard, co-captain Christian Webster, and the rest of the bunch (no, bumping into them on the way to lecture doesn't count). Seems like it's time to reconnect.
Without co-captains Keith Wright and Oliver McNally, Curry, or first-team All Ivy honoree Kyle Casey, spots have opened up all over the court.
Before school started, the Crimson ventured across the pond for a foreign tour in Italy. The team came out of the trip 4-0 against its Italian opponents, and the games showcased players who will likely take on increased roles this season.
"[In Italy], I thought our sophomores took a really big step for us," Amaker said. "It's exciting to witness growth with guys maturing and getting better…. That will hopefully allow our program to continue to grow."
And it's not just the sophomore class that appears to have made key improvements.
"Laurent being a junior, Ugo [Okam] being a junior, guys like that that are becoming upperclassmen now," Amaker said. "I'm very encouraged with the way that our program is evolving."
5. Tommy Amaker asked you to.
Saturday's scrimmage marks the first time this year that the Crimson will have fans in the stands at Lavietes Pavilion. And according to Amaker, this is a big deal. The coach cited home-court advantage as instrumental in his team's recent success on the national stage.
"[Fan support] is critical for us," Amaker said. "We've been very proud and incredibly honored to know that folks, in particular our student body, has helped create this home court advantage that we've enjoyed for a while now."
Before then-senior guard Zach Rosen boosted Penn over the Crimson at Lavietes Pavilion in a one-point thriller on Feb. 25, Harvard boasted 27 straight victories at home. The mark was then the second-longest home winning streak in the country, with perennial powerhouse Kentucky claiming the No. 1 spot.
And according to Amaker, the establishment of a favorable atmosphere for the home team this season could begin this weekend.
"We get confidence and strength from [the fans] as a ballclub and a team that our environment is intimidating," Amaker said. "It's exciting and our players feed off of [fan involvement]—the start of that is Saturday. If we can get a great turnout and the energy and excitement can start, we can run with that and hopefully have that build and have our team continue to grow."
blog comments powered by

Disqus