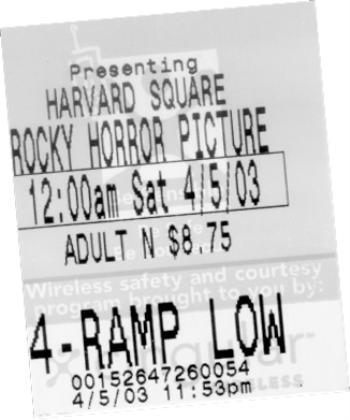 NO WRITER ATTRIBUTED
"Once upon a time, a long time ago, in a galaxy far, far away, God said, 'Let there be lips.'"
And there were lips. Big, blood red lips and sparkling white teeth. Lips that begin mouthing the words to "Science Fiction/Double Feature," the schmaltzy song that plays a little after midnight every Saturday at the Loews Harvard Square. The Rocky Horror Picture Show swaggers onto the screen, as it has every weekend for nearly two decades.
More than one hundred fans crowd the cinema's theater number four—from Rocky regulars who have the lines down pat and intone the "once upon a time" in unison, to first-timers there as Rocky "virgins." Last Saturday, a Boston man decked out in a red sleeveless dress and fishnets sat across from a father escorting a dozen Spanish exchange students from his daughter's high school and a New Jersey girl passing through town to visit colleges.
Two hours later, they will rush out of the back door onto a desolate Church Street, picking rice out of their hair and brushing after-dinner mints off their laps. The lucky ones might have given a lap dance on stage, bumped pelvises with perfect strangers as they danced the "Time Warp" in the aisles, or received an impromptu serenade from a man in lipstick and a miniskirt. They will have seen one of the greatest cult classics of all time, yelled at the screen and watched a seven-person cast act in sync with the movie's leading players, strutting through the theater in black bras, garter belts, silk shirts tied high and skin-tight shiny pants.
And, week after week, they will return to Rocky. Long after the horror has worn off, the picture is still playing and the show must go on.
Who Brought Them Here?
It's 11:30 p.m. and around 50 people are already milling in the street outside the cinema.
Jacob Gastlyn came to Harvard Square in a taxi. He was afraid to take the T from the Fenway stop, he says, because he thought a man in a red sleeveless dress, light blue eyeshadow and black nail polish would get beaten up.
He only dresses in drag when he goes to Rocky Horror, which he has been doing since he attended his first show in 1994, at age 18. At that point, he came dressed in a trench coat as "The Crow," a comic book superhero. A few months later, he decided to make his drag debut.
"I saw the attention I got, and started to do it a lot more often," he says, while fidgeting with the padding in his ample breasts. "I've been doing it so long it's comfortable."
He came to the show Saturday with a female friend, in pigtails and a red dress.
She remembers a month ago when a few parents brought their 12-year-olds to see the flick and got a hard time from one of the actors.
"He was merciless," she says. "He kept asking, 'who brought them here?'"
A few minutes before midnight, a woman with green streaks through her hair and a jacket with a security patch sewn on stomps into the street and hollers, "If you're here for Rocky Horror Picture Show, come on in."
After the line shoves its way through the theater's doors, this self-appointed head of security orders the crowd to sit down: "Seats are only as good as the butts that are in them."
The cast looks like they may have come from the best little whorehouse in Texas, but she warns the audience against making any unsolicited moves.
"This is like a high-class strip joint," she says. "We can touch you, but you can't touch us."
She then pulls open her shirt, winding up with a fellow crew member's head in her cleavage.
Rocky fans wave dollar bills in the air to buy a "bag of shit," containing everything they will need for the next two hours—a ziplock bag of rice, toilet paper, a noisemaker and playing cards.
But it's April Fool's Day, she says, holding up one of the bags: "It could be crystal meth."
It's already ten past twelve, and the show is just getting underway. A series of pre-show skits begin as female cast members in black bras and fishnet unitards slink through aisle and gyrate to the beats of "Shake My Booty." Feathers from purple boas fly in a mock battle between characters from Rocky Horror and Priscilla, Queen of the Desert, an Australian movie about drag queens.
Then it's the virgins' turn. Dozens of audience members with red lipstick V's smeared on their foreheads vie to be pulled on stage in a competition to see who can give the best 20-second lap dance. When audience applause deems Vicki the winning virgin, her row of friends stands and cheers.
The theater dims, and as those in the know wait for red lips to kiss the screen, they yell in unison: "Once upon a time, a long time ago…"
Rocky's Road
Rocky Horror began on stage as a spoof musical. The film adaptation, starring Susan Sarandon, Tim Curry and Barry Bostwick, flopped in 1975. But the next year, when the Waverly Theater in New York showed the film as an April Fool's gimmick, it began its midnight reign.
The horrors begin shortly after Janet and Brad marry and drive off from their home in Denton, Ohio. When their tire blows out, they trudge through the rain to the nearest shelter—a castle owned by Dr. Frank-N-Furter, a transvestite hosting a convention of aliens from the planet Transsexual in the galaxy Transylvania. Tormented and propositioned, the newlyweds are chased by Frank-N-Furter's creation named Rocky Horror.
And on this April Fool's weekend, the outrageous plot and its outrageous '70s music are still going strong in hundreds of theaters across the country.
What keeps it alive is what insiders call "AP," or audience participation—which means shouting "asshole" every time Brad appears and "slut" whenever Janet shows up, throwing rice around the theater when they get married and tossing chunks of dinner rolls during a banquet scene. Regulars pick up the lines, which vary depending on the theater and some even invent their own.
In the early years, the Exeter Street Theater gave Rocky Horror its Boston home. But when the house folded in 1984, the singing menagerie came to Cambridge.
In Harvard Square, Rocky Horror is serious business.
Loews owns the print and treats it like any other movie showing. But a cast and crew of more than 50 volunteers—actors, directors, lighting crews, security personnel and prop managers—works to put on the production each week. They lug their costumes from home in rolling suitcases and duffel bags. They've built scenery to look like the coffins and elevators in the movie, and they store it at the theater between performances.
The group holds auditions twice a year for the two casts that trade off acting duties every other week. They rehearse regularly and they have understudies. And after every show, the directors—one of whom first saw the show with his Jewish youth group from Needham, Mass. more than a decade ago—share notes with the performers.
When the auditions were last held in November, 36 people showed up—including about 15 or 20 first-timers—to try out for the 21 slots. Even once they've been picked, cast members must re-audition on videotape for the directors.
Taking it Serious
Out on the street after Rocky Horror lets out, J.D. Leggett stands with a toolbox in one hand and a fistful of plastic bags with costumes in the other.
He wrote and directed the pre-show battle between Rocky Horror and Priscilla, which was a take-off on "The Drew Carey Show."
This was the big night for his pre-show—after tonight's premiere it will run every week for the month of April—and it took some major preparation.
He's been rehearsing the skit with the actors for seven to eight hours a week for the last two months, using the yoga studio where his boyfriend works.
"It took a while to learn down the choreography," Leggett says.
Leggett's day job is supervising an office for a group that works on heating costs for low-income area residents. But he has been spending his Saturday nights with Rocky since 1994.
"It spices up everything," he says. "I work in an office during the week. I come here at the end of the week and it's 'bam!'"
During his seven years with the cast, he has played four different roles, including Rocky. He prides himself on the group's spirit of professionalism.
"We try to take it seriously," he explains. "A lot of casts across the U.S. are more lax on costumes. We try to be as screen accurate as possible."
Waiting for his ride, he works out a casting switch with Tara Rappolt, who played Dr. Scott tonight and acted in his skit.
Her pre-show debut made Rappolt, a sophomore acting major at Northeastern, so nervous all night that she didn't even notice how the audience was reacting to her performance.
"I'm more prone to take a professional stance," she says. "There's so much volunteer theater but it needs to be professional."
She likes acting in Rocky Horror, she says, because it means "being happy, being positive with each other."
Each April Fool's weekend, the cast has some extra fun with each other and with the audience. This Saturday, Rocky dressed as Elvis and a pair of actors turned Frank-N-Furter into a two-headed creature.
That's okay, Rappolt says, but only to a point.
"We all need to take it serious," she says. "When we don't have scheduled funniness, we should be doing it serious."
Therapy in Fishnets
When the lights come on at 2:10 a.m. and the audience files out past a Cambridge Police Department officer, the fanatics and one-time virgins mill outside.
Richard Thal, the Boston man who had brought the Spanish exchange students, laughs as he tries to gather the crowd of high-schoolers. Although many of his friends frequented the Exeter Street Theater's Rocky showings, this was Thal's first time, too.
"It was wild," he says. "I kept thinking, 'What in God's name are all those Spanish kids going to think?'"
Many of them say they couldn't understand the movie at all. But they were able to pose for photographs with Gastlyn, the man in the red dress, who stuck out his tongue for the picture.
Lisa Grossman, the high-school junior from New Jersey, says this show was better than the first one she saw back in Montclair. This time, she even managed to stay awake.
"There's more energy," she says. "They didn't let you throw things at the other one."
And as for how the ordeal influenced her thoughts on colleges, she says "not very much at all."
Greeting her friends in the cast and crew as they struggle out with their bags, Linda Brennan sports her Rocky get-up, a jean jacket with a Rocky Horror patch and a pin that reads "My Lips Belong to Brad."
When she came to the show for the first time in January 1996, she was a sound board operator at a community theater in Newton—and was "dead against horror films."
A co-worker was supposed to meet her in the Pit one Saturday night, but when he never showed she ran into other friends who were going to Rocky.
She returned the next Friday and Saturday—this was back when Harvard Square showed Rocky Horror twice a week—and she came back the Friday and Saturday after that.
The next week, she joined the crew.
She became a die-hard fan and, within the Rocky circle, her claim to fame is that she made up a new AP line—squeaking as Janet and Brad drive through the rain with their windshield wipers swishing back and forth.
After a year working on props and costumes, she joined the cast. She was a big Susan Sarandon fan and for the next six years she was the Friday night Janet—until she "retired" a year ago.
"This made part of my dream come true," she says. "But I want to be on the screen next time."
Over the years she made so many friends with employees at the theater that she decided to start working there herself, in the box office and as a ticket-taker. The crowd on the street thins out and, with daylight savings time taking effect, it's now approaching 4:00 a.m. Brennan will have to be back at the theater in her usual uniform in eight hours.
Traveling to Rocky Horror conventions, she has made friends across the country. She's been to six conventions total, including the 25th anniversary bash in Las Vegas, and she plans to attend the next gathering in Wichita this summer.
In February, she took a trip to Chicago to see her Rocky friends act in the cast there.
She owns Rocky Horror on video and DVD and has watched it more times than she can count.
"It helped me a lot," she says. "I used to be the shiest person in the world. At Rocky Horror, you're with people who are just as shy as you are. It's really therapeutic."
—Zoe K. Epstein contributed to the reporting of this story.
—Staff writer A. Scott Holbrook can be reached at holbr@fas.harvard.edu.
—Staff writer D. Justine Lamas can be reached at lamas@fas.harvard.edu.
Multimedia