Engineering School Sees Low Satisfaction Ratings
February 18, 2011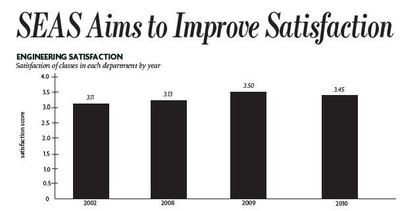 Despite impressive growth in the number of engineering concentrators—and a noted rise in Harvard's national reputation for engineering—many of Harvard's young engineers do not seem to be satisfied.
According to senior surveys completed by the class of 2010 last May, engineering sciences ranks the lowest in terms of student satisfaction. Thirtyeight seniors concentrating in engineering sciences gave the concentration an average rating of 3.45, well below the College mean of 4.18 and 4.21 for natural sciences concentrations.
"It's certainly not good to be at the bottom of the list, but we're at least relieved that students aren't giving us 1s and 2s," says Robert D. Howe, associate dean for academic programs at the School of Engineering and Applied Sciences.
Howe, along with many current ES concentrators, says he thinks dissatisfaction stems from inadequate advising.
"We have had some growing pains. As enrollment has gone up, we haven't kept up with advising as we should," he says.
And while many concentrators say they are largely happy with their experience, some say they are not necessarily surprised by last spring's results.
SUBPAR ADVISING
Robert D. Longcor '12, an ES concentrator, says he still does not have an official concentration adviser. The junior says he was always interested in engineering, but after considerable dissatisfaction with the Bachelor of Science engineering degree, he switched to the less demanding Bachelor of Arts track and added a secondary in Economics.
"The whole [advising] system is understaffed, not run really well," he says.
Several sophomore ES concentrators say they have yet to be assigned individual concentration advisers, despite having submitted their official plan of study forms in November.
Without a "well-defined" support system from the administrative staff, many concentrators instead turn to upperclassmen as mentors, according to ES concentrator Julie Xie '12.
Longcor attributes some of the department's weaknesses to the youth of SEAS, which was established in 2007.
"Students are comparing this to other concentrations that have been here for hundreds of years," he says.
SEAS Assistant Dean for Academic Programs Marie Dahleh says that bolstering the advising system is a crucial step to improving the concentration.
"What we have recognized is that we need to have more folks involved," she says, adding that the department is looking to model its program on the life sciences and invest in assistant directors for undergraduate studies.